Weekly News From the President: Welcome, WERA!
One of the most exciting developments in community media in the past decade has been the expansion of low-power radio, and what it means for PEG access television. It's been a story of community groups and telecom activists pushing for more media access for all people in the United States.  And now we're seeing the fruits of those efforts – some 60 community television operations across the country either have low-power licenses or construction permits to build stations.
Here in the DC-area, we're celebrating the launch of WERA at Alliance-member Arlington Independent Media in Arlington, VA.  They are now broadcasting live after a three-year organizing effort, and showed off the new studios to a packed house of over 300 people last night when they went on the air.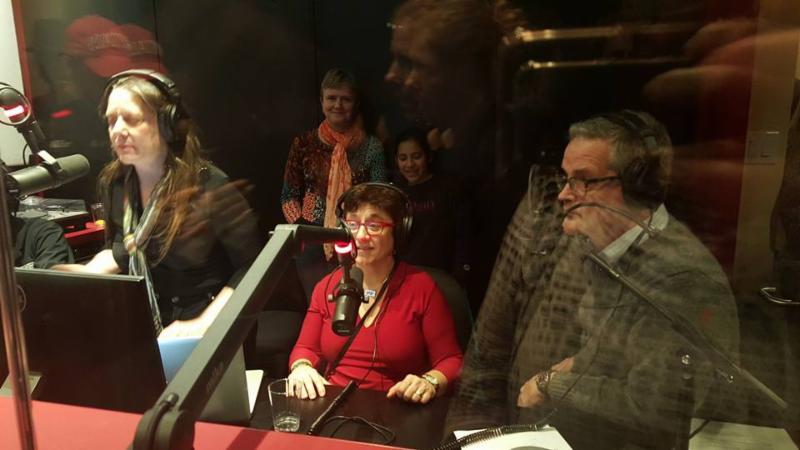 The FCC's Gigi Sohn and I were interviewed at the launch about the
importance of low power FM and what it means
for expanding community media.  
Today, Paul LeValley from Arlington and I gave FCC Commissioners Ajit Pai and Jessica Rosenworcel tours of the facility and talked about the importance of keeping access media strong in local communities.
Paul LeValley from Arlington Independent Media gives FCC Commissioner Ajit Pai and staff member Matthew Berry a tour of WERA.
To get some background on the project, check out AIM's website.
++
The Deal in Philly
Late last week, we got word that Comcast and the City of Philadelphia had reached agreement on a new franchise. What does it mean for PEG and our member PhillyCAM?   Here's a summary from PhillyCAM Executive Director Gretjen Clausing:
All in all, it is a strong agreement.  I will admit to being a bit disappointed in some of the PEG language that could have been tougher and some of the provisions less onerous.  Plus in reading the recent Seattle franchise I saw something that I wish we could have secured here.

And yes, I had hoped for more money.  We will be okay for the short term but long term we will need to seek outside support to really grow the organization.  The City has committed $11 million over 15 years to PhillyCAM.  We are hopeful that we will be able to negotiate a higher percentage of the $21.3 million committed to PEG with support from City Council.
BIG THANKS to Mike Wassenaar and Tony Riddle for making the trip to Philadelphia to testify on our behalf at the marathon 8-hour public hearing!  By placing our work in a national context, their comments made a huge impact on our City Council. I'm calling it a $2 million day.  All our combined testimonies made it possible for the negotiators to secure an additional $2 million specifically for PhillyCAM.  Way to go ACM!
It was great to have an opportunity to see Gerry Lederer in action here on his home turf in Philly. Tom Robinson and CBG Communications did a great job with the needs assessment. Overall it was a remarkable effort of an administration working with its elected city council along with stakeholders and advocates on a very far reaching agreement. Proud to have been part of the effort.  
Here is a link to the most comprehensive article.
You're welcome, Gretjen! I am glad we were able to help PhillyCAM and Philadelphia!